◎ Blueprint of B2OS.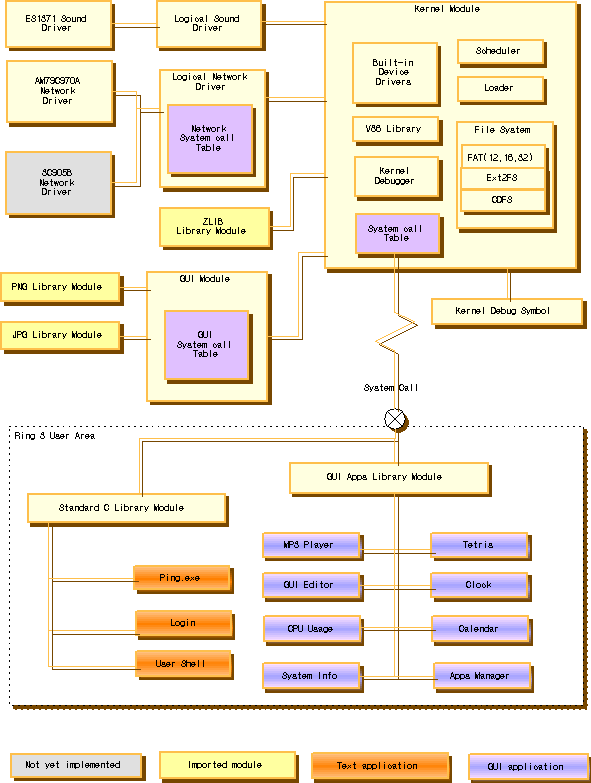 ◎ Implemented Features.
◇ CPU.
Intel 80x86 32Bit Protected Mode.
Support V86 Task.
◇ Memory.
4Gb flat virtual paged memory model.
Each process has its own address sapace.
Kernel memory space is protected from bad applications.
◇ Process/Thread
Multi Processes/Multi Threads. (A Process can have one or more threads.)
◇ Inter Process Communications.
Shared Memory, Semaphore, Message, Signal, Event.
◇ Symbolic Kernel Debugger.
x86 32Bit Assembler, Disassembler.
4 hw breakpoints and a few sw break points.
◇ Application programs (PE format)
login.exe, shell.exe, tetris.exe, clock.exe, text editor,
cpu usage.exe, wav player, mp3 player...
◇ File System.
FAT12, FAT16, FAT32, Ext2
◇ Dynamic Loadable Shared Libraries.
◇ Device drivers.
Direct Device Access and Bios Independent.
Block Device Driver : FDD, HDD, CD-ROM, RAM-DISK.
Char Device Driver : Keyboard, Mouse
Sound Device Driver: Creative Lab's ES1371
Network Device Driver : 3COM905B, AM79C970
◇ Remote Console over serial connection.
◇ V86 task support.
◇ Standard C library with Math APIs.
It can be compiled and linked made by VC or GCC.
◇ JPEG Library, ZLIB Library, PNG Library, Self-extracting kernel module.
All these libraries have been imported, not implemented by myself.
◇ Module compression.
Not only applications but also kernel level modules can be compressed.
◇ Graphic User Interface.
Multiple predefined windows.
Semi-transparent windows.
Common controls (List Box, Tree Control, Button, Docking Tool Bar, Combo box, Modal Dialog Box)
◇ Network Function.
Implemented APIs : socket, closesocket, getsockopt, setsockopt, sendto, recvfrom.
Network Applications : Ping.exe
to be continue...